Catering is an important part of every event, and you should always think carefully while organizing it. Of course, you could do it yourself, but it is much better when it's provided by real professionals!
First of all, it saves you time and money. Then, catering providers are aware of dietary requirements and health regulations, so you don't need to keep that in mind. Different restrictions, such as vegan, vegetarian, gluten-free or some other allergies are already taken into account, so that all your guests will feel comfortable. Moreover, they have loads of ideas on how to better organize the catering facilities and how to decorate them. Good caterers have a lot of experience in it, so trust them.
Once you decided to use catering services, you'll need to search for the best fit for your event.  It may be difficult to decide on what catering provider to take, so we already did the research for you and now we are ready to share the results. Below, you can see the 10 Catering service providers in the USA that we like the most.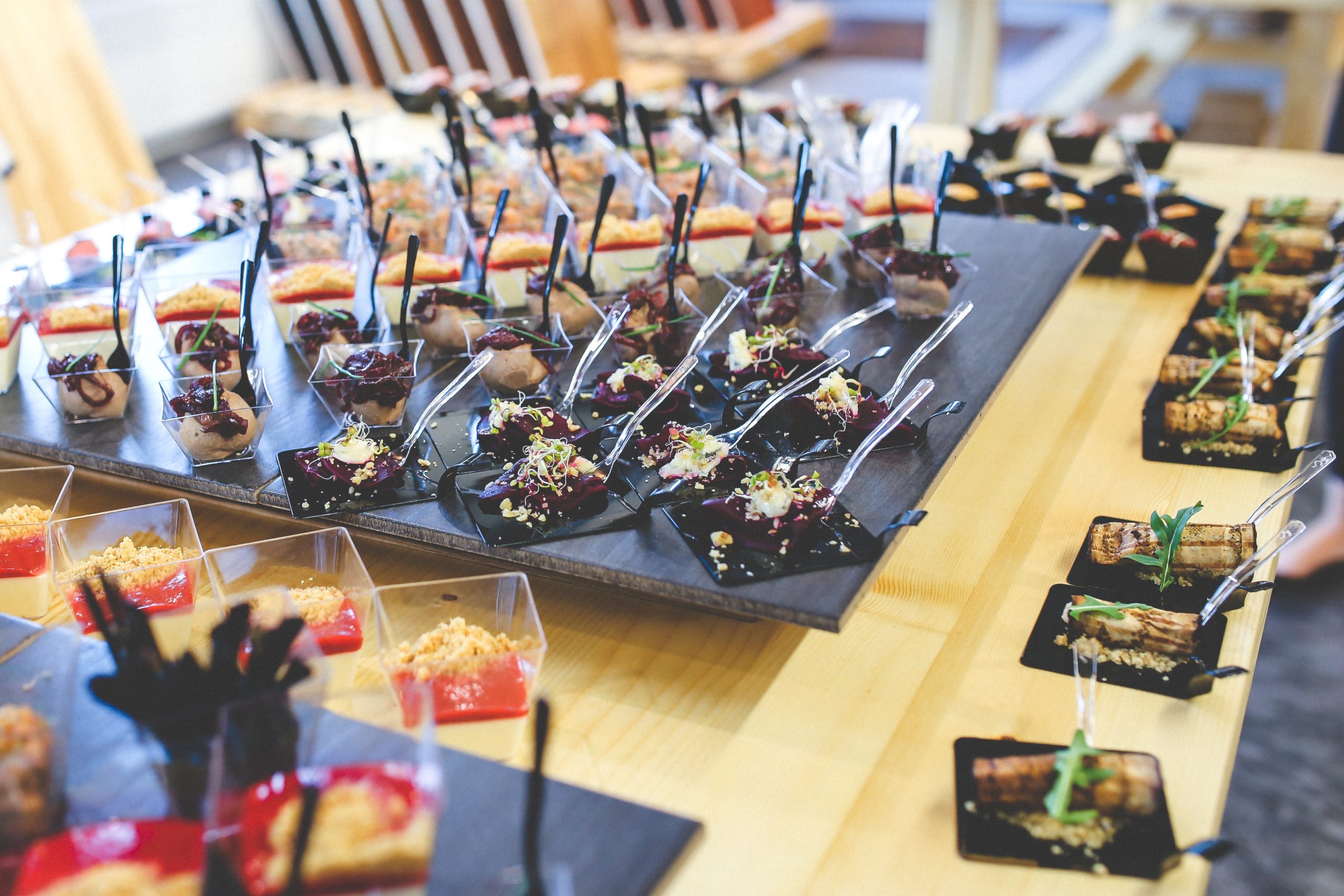 Our top 10 catering service providers in the USA
On Safari Foods is a sustainable food service provider operating in Seattle. It delivers creative and delicious dishes, along with keeping in mind dietary preferences and allergens.  On safari Foods team is ready to help you with menu planning, venue selection, decorations, and other event preparation activities. Its mission is to make every event an unforgettable experience.
Date of establishment: 1992
Location: Seattle
Founded in 2015, Junzi Kitchen provides catering services of delicious Chinese food. Noodle bowls, wraps, salads and a lot more are made of fresh, healthy ingredients and can be delivered to any kind of event. In addition, vegetarian, vegan and gluten-free options are available, so you don't have to worry about dietary restrictions. With Junzi you can get a unique touch to Chinese cuisine! 
Date of establishment: 2015
Location: New York, New Haven
The team of Sirico's is committed to make your event memorable by offering exceptional food and high-quality service. From a small company meeting to a huge celebration – Sirico's Catering does it all. Its services are famous for well-trained and friendly staff as well as delicious menus and outstanding venue. It also offers event planning services to make sure that everything goes in the right way. 
Date of establishment: 2015
Location: New York
Excellence and service come together at Herban Feast. Food and beverages as well as spacy and well-located venues are offered by the company. Herban Feast follows the highest standard and customized menus, helps in event design and has an expert team ready to help. Every service is there to make sure your event is absolutely perfect.
Date of establishment: 1999
Location: Seattle
The founders of the company James and Randy are dedicated specialists in combining high-quality food with the value it brings. Their partnership with the best vendors and suppliers allows them to use only fresh and natural ingredients. It offers a wide range of dishes and cuisine styles in order to serve everyone's taste. 
Date of establishment: 2010
Location: California
Ravishing Radish provide great catering services to its customers by putting a large emphasis on details. From food and decorations, to venue rentals and other event organization details, it makes sure every aspect is unique and corresponds to customers' wish. Focus on local ingredients is important for the company to provide delicious and memorable menu.
Date of establishment: 1993
Location: Seattle
After almost 30 years of experience Doug & Jennifer (DJ's) has the knowledge of how to provide exquisite food catering services. Its portfolio ranges from weddings to corporate events and conferences, and DJ's diversified menu and services can match every customer. DJ's Catering is a full service caterer that can help you to organize your event – assist you with food, drinks, venue rental, party equipment etc.
Date of establishment: 1991
Location: Los Angeles, Ventura, & Santa Barbara
Date of establishment: 2007
Location: the USA
Rocky Top Catering is committed to deliver a unique experience to its customers. It offers tailored approach to every client and customizes the whole event according to his or her vision. Wide range of dishes in menus, creative food presentation and great service make Rocky Tops catering stay at the top of catering companies. 
Date of establishment: 1998
Location: North Carolina​
Delicious food from the best local restaurants delivered right to your office or event by ZeroCaters team. Cooperation with local restaurants allows it to provide the food that best matches your preferences at the time you need it. While working with ZeroCaters, you will get a specialist, who will prepare a customized menu based on your preferences, taste and budget. Then the company handles the delivery and set up, providing you with the best experience. 
Date of establishment: 2009
Location: San Francisco, Los Angeles, New York City, Chicago, Washington, D.C. Metro Area, and Austin
We hope you've found something suitable for your next event. Bon Appetit!
Subscribe to our blog to receive awesome articles in your inbox.