Being Sustainable Doesn't Have To Be Expensive​
Did you know that the event industry is the second most wasteful industry in the USA? It's definitely a step in the right direction that everyone wants to be sustainable – but that must be pretty expensive, right? No, it doesn't have to! There are easy and accessible ways that will reduce your footprint on the environment. Start with avoiding some things now.
Transportation management
You didn't think about what your attendees do before the event even starts? They come from different locations, individually driving to the venue with their own car or taxi? So much room for improvement! Wrong transportation management has one of the biggest impact on CO2 emissions, if not the biggest. And it's so easy to fix. 
Traveling to and from your event can create some great opportunities to reduce your carbon footprint. It's awesome if you can host your event in the same hotel or building your attendees stay in, but if that's not possible choose a location that is easily reachable by foot or public transportation. Try selecting a walkable, cycle-able and transit-accessible neighborhood with restaurants, supermarkets and other buildings your guest may need to improve accessibility and reduce the need for transportation during your event. 
Shuttle Service and ride-shares
Another option is to set up a shuttle service from some of the main pickup points to reduce the use of cars and parking spaces. That's not only a very green thing to do but it is also a great way to make your attendees even happier. They already get to know the other participants and don't have to worry about their transportation. A win-win situation for everyone! 
Naturally, you don't want your event to look boring and dull so you bring a variety of decorations with you, including posters, banners, napkins, flowers and more which all could become disposable and end as extra waste. Refrain from decorations completely? No way! Here are some ideas to inspire you to use sustainable options.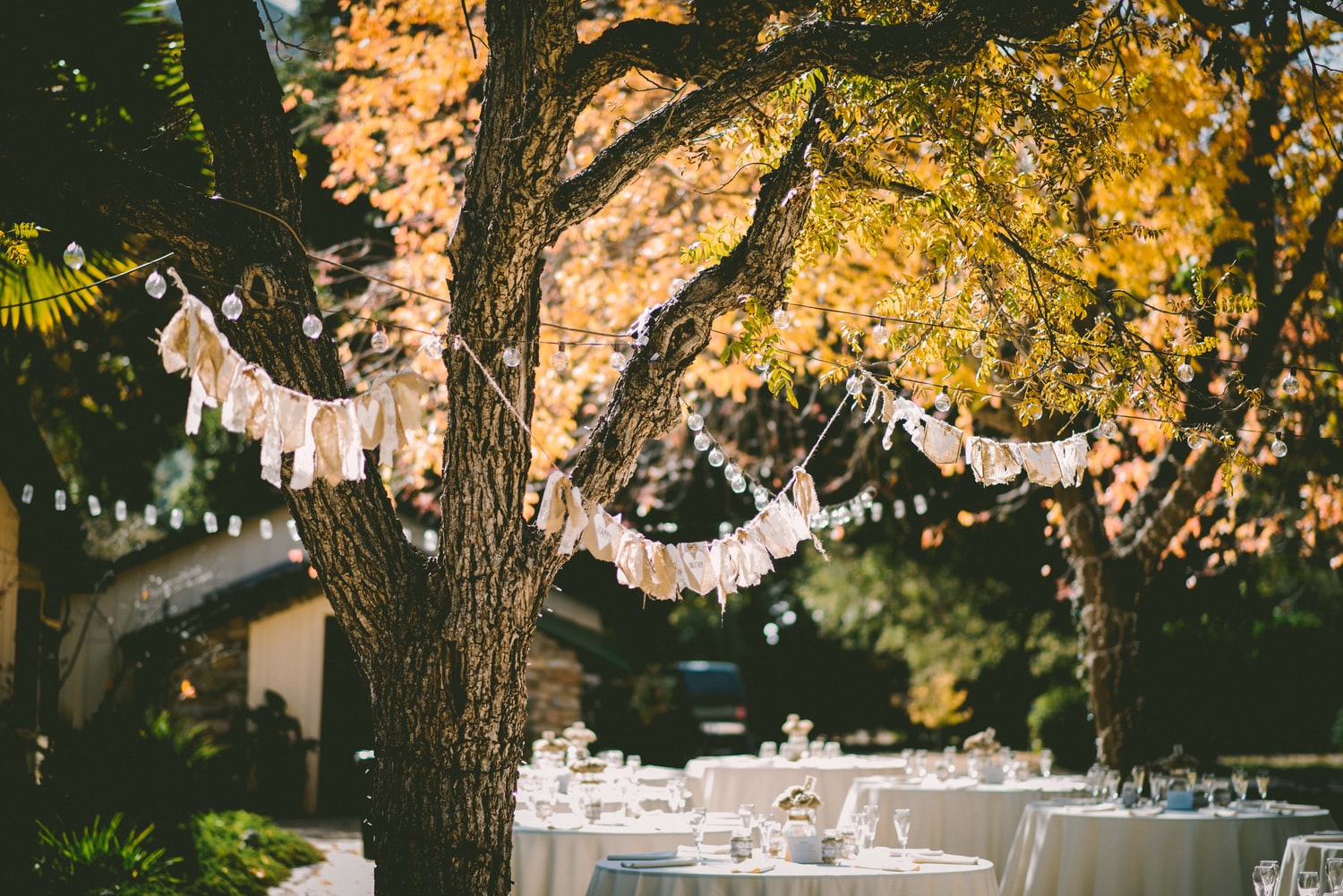 We're talking about sustainability here, so what could be more eco-friendly than a floral arrangement, right? That's an easy assumption to make, but the truth is that most plants and flowers are just thrown away after the event. Try the following tips:
>>> Use fake flowers. Good fake flowers look like real ones, plus they are reusable. Another good thing about them is that you can get flowers that match your brand identity or the theme of recurring events. 
>>> Edible plants and flowers. Pretty creative, right? And there are many of them: Wild Bergamot, with their beautiful purple color, Calendula, bright and cheerful and the Forget-Me-Not with its small, blue flowers. And the list goes on!
>>> Use them as a gift. Everybody likes a fresh flower bouquet and you may have some of them after your event ends. Why do you throw them away when you can make someone else happy and save some waste? You can even use them as an incentive or prize.
Posters, banners, brochures and more are present at nearly every event. Using the same materials all over again is pretty unusual, so why not change all of this potential waste into something good? Place your information on TVs or project it on walls. You can easily edit your content for every occasion and it's more likely to get attention.
Still use high-energy devices? You should change that. We advise you to use LED lights and bulbs and other low-energy equipment to reduce energy waste. 
Right now you're getting your food from a good but random catering service, you don't know where exactly the food is coming from and there are so many leftovers that just go to waste? Of course, there is some planning involved, but dealing with food waste became a lot easier over the years.  So what can you do?
You usually plan events weeks or even months ahead – why not doing the same with your menu? Ask your attendees to choose and pre-order from a set menu ahead of time. That ensures that you aren't mass producing food, that you won't need in the end.
Choose the right catering Company
Choose a catering service that mostly uses regional products. Ideally, get all non-regional products like coffee and tea from Fairtrade suppliers or packaging-free supermarkets. To make it easier for you, we've prepared a list of the best catering companies in the USA here.
Look for a partnership with local shelter initiatives that will gladly take leftover food and give it to people in need. There are many creative initiatives so have look at what makes the most sense for you.