How to increase the commitment of your participants
Perfect planning and execution of an event from start to finish – that is the responsibility of an event manager or organizer. From the location to the program, everything has to be planned in detail in order to ensure the visitors' satisfaction. To achieve satisfaction and increase the engagement of visitors, most organizers like to use event bags. And anyone who has ever visited events such as trade fairs, conferences, sporting events or others has certainly already come into contact with an event bag.
But what is an event bag? And how is it applied?
An event bag, also called Goodie Bag, is a mix of product samples, vouchers, promotional gifts, general information regarding the event, flyers, brochures or other advertising material that the organizer makes available to the visitor. Besides the organizer, participating sponsors and brands can place their content in this bag.
The contents of the event bags should under no circumstances be random, instead they should be tailored to the event and have a high relevance for all participants.
But will the event bag actually be used in the way the organizers and sponsors imagine? Or do the bags end up in trash?
The number of physical event bags that are not looked at or even end up in the garbage is and remains uncertain. It is also unclear to the organizers and sponsors which of the individual contents were actually relevant or whether it turned out at first glance that the contents were not interesting to the recipients. As a result of these questions, the digital event bag is becoming more and more established.
A huge benefit of the digital event bag is that you get an exact evaluation of the activities within the bag. This allows conclusions to be drawn very quickly as to which content was particularly relevant and in which areas potential can still be exploited. This allows you to precisely track your marketing activities and measure your success.
Benefits of a virtual event bag:
Sustainability: Save valuable resources like paper, water and CO2 by eliminating physical goodie bags and reducing your environmental footprint.
Monetize: You can sell the individual areas of the content to your sponsors and partners as advertising space and thus generate new income.
Increase your digital reach: By distributing your digital event bag via e-mail and landing pages, you increase your digital reach.
Save time and money: By not having to stuff your event bags by yourself or hire and pay for staff, you save enormous costs. The printing costs of the paper bags and their contents are also eliminated.
How to fill your event bag and how to build an event bag that converts?
Since one of the many advantages of a digital goodie bag is that you no longer have to stuff bags by yourself, the question should be: How do I create a digital event bag?
The solution Fanomena Events realizes the classic event bag in a digital way and offers an interactive marketing platform that connects sponsors, participants, and organizers.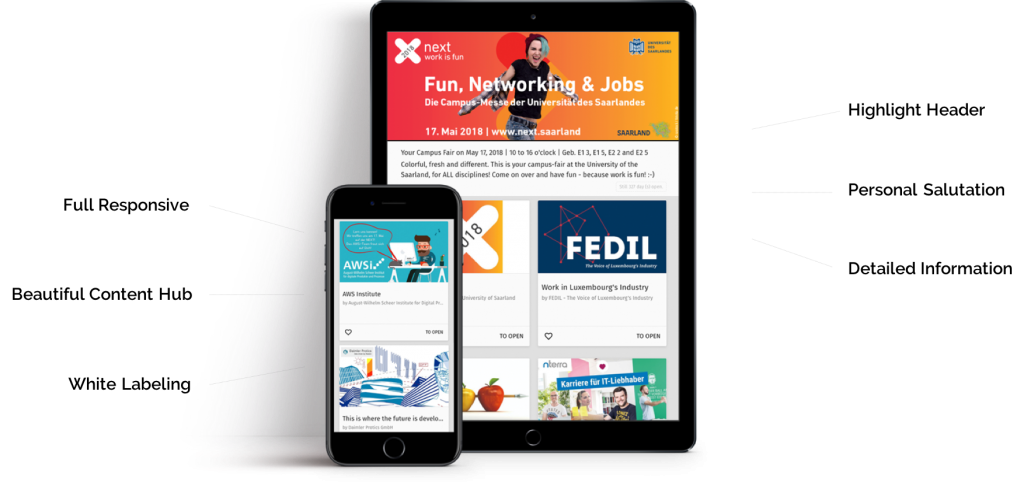 First, you should select the design of your digital event bag. It makes sense to include the corporate design of your event in the bag. Next, you choose an appealing header image and add a personalized salutation.
But now we come to the important part of every event bag, the content. Besides general information, flyers and brochures, which you can easily upload as PDF, you should not leave out small gifts or product samples. Especially in the trade fair sector, samples are very popular since visitors can test the products that were presented at a trade fair stand. Providing physical samples with a digital Goodie Bag is no problem as you can advertise your gifts and allow your visitors to pick them up at your exhibition stand. After pressing the "Redeem" button on the interested person's device, the sample will be given out and cannot be redeemed twice.
Besides this function, you can also add vouchers and coupon codes to your event bag and link to an online shop. Another feature to increase the visitors' engagement is the Gaming Coupon, which allows you to create surveys and raffles of any kind.
Fanomena Events is a possible provider for digital event bags. There you can create your personal digital Goodie Bag and send it to your participants. A big advantage of the digital goodie bag is that you can get an exact evaluation of the interactions of your participants with the digital event bag.
Whether you use physical or digital event bags at your events, to increase the engagement of your participants, you should always rely on relevant, individual and interactive content. This way every visitor will remember your event with pleasure.