Bringing a company on the road to success and achieving sustainable corporate success are two major challenges.
A foundation for this can be laid in the company organization, i. e. the medium- to a long-term structuring of the company and the tasks arising from it. Since each company has its own individual process, the goal should be to efficiently handle these processes in an organizational structure both within and between the individual organization areas.
In every B2B company, regardless of which product or service they offer, the following value creation process occurs:
For the management, it is important to get this process going and to branch the interfaces perfectly into each other. As the diagram already suggests, there are certain dependencies between the areas.
In the area of B2B customer acquisition, two teams often clash more frequently in most companies: marketing and sales. Depending on the form of organization, the conflicts are different.
Goals and challenges of the two departments
Especially in marketing, the areas of responsibility and ambitions are very varied and therefore differ from company to company. They range from tasks in the field of market analysis to generating and qualifying interested leads and the associated lead management. In the vast majority of cases, the basic idea of marketing lies in the consistent alignment of the entire company with the needs of the market. Particularly as a result of the increasing focus and development towards digital channels and measures, marketing is increasingly exposed not only to qualitative objectives such as image enhancement but also to quantitative key indicators (KPIs). This can lead to areas of conflict between very short-term and long-term goal settings.
Everything in sales is the same as before? Yes and no.
There is still a very clear and at least hard to achieve Goal in sales: sales. It's all about how the service or product finds its way to the paying customer. Nevertheless, market conditions have changed considerably in recent years. Through the internet and the associated possibilities, sales staff have gained access to a large number of potential customers (leads). At the same time, the masses are causing problems for many distributors:
This is precisely why more and more companies are trying to align their marketing and sales departments more closely with each other. The idea: Marketing teams are to generate leads through various measures in order to hand them over to the sales department in a next step. The resulting problem is as old as it is: The sales department accuses the marketing team that the handed leads are unqualified and do not want to buy anything at all. At the same time, the marketing management complains at regular intervals that the leads they send are not carefully processed and that the sales department does not generate enough deals.
In this case, both teams follow the same goal: transferring interested persons into customers and keep them for as long as possible.
Marketing collects and qualifies leads and then passes them to sales as a qualified opportunity. In the next step, Sales is responsible for taking over these leads and converting them to customers. So both teams are not only pursuing the same goal, they are dependent on each other.
But why are there issues?
However, as sales and marketing often have different perspectives on the goal – marketing is usually more strategically long-term, while sales tend to focus on the next deal at short notice in order to earn a commission. Moreover, these conflicts are also historical in many companies. Products and services have grown over time, as well as sales and marketing processes. There are no more identical customer profiles (Buyer Personas) and the lead process is not exactly defined. Appreciation also differs greatly.
"They only make PowerPoint slides." "Marketing has no idea what our customers need." "Aren't they just organizing events?"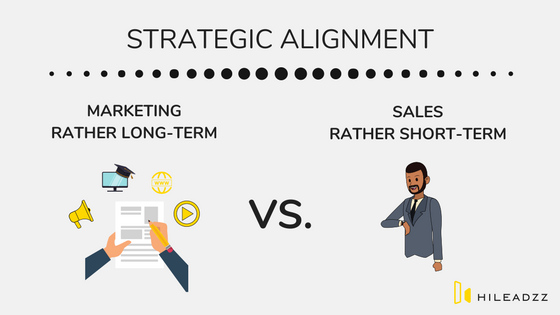 Marketing, on the other hand:"Our distribution? They're just driving around!" "You're resistant to counseling and then complain about missing deals."
All these different perspectives are extremely contra-productive, even with the same ambition. Especially through and through with the possibilities of digitization, the cooperation between marketing and sales is no longer just a "nice to have", it has rather developed into a "must have".
That's how Marketing and sales work better together: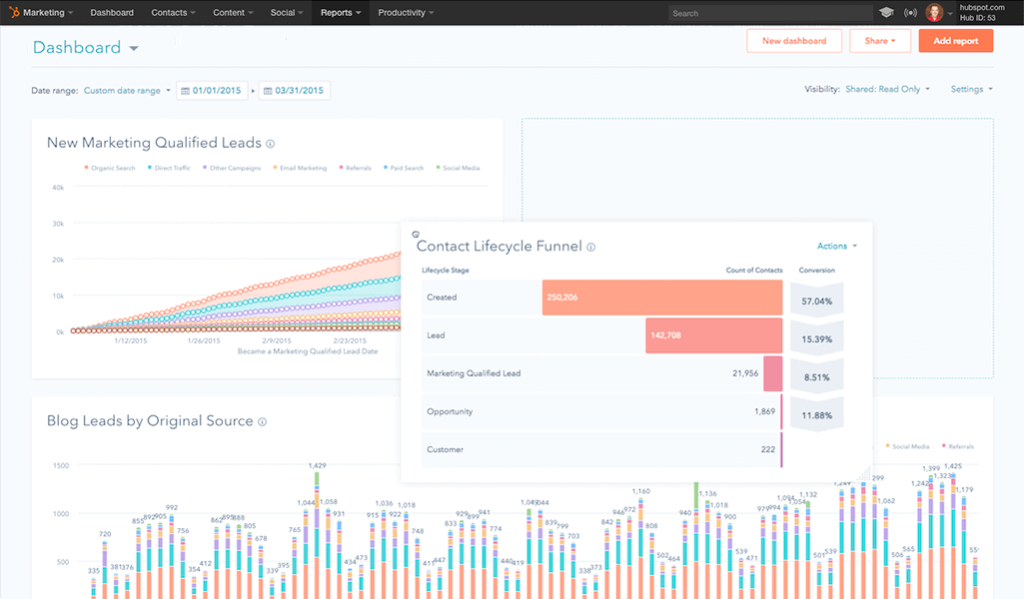 Today, the popular CRM systems (Hubspot, Salesforce, Microsoft Dynamics) offer the ability to create dashboards within a few steps which increase the transparency and cooperation between marketing and sales.
By opening up the entire marketing and sales funnel and making it visible to every employee, problem areas can be quickly identified and actions can be determined, for example, sales may require additional content to show their expert status to customers, to appear as an expert in social media, which will have a positive impact on the conversion rate.
In addition, marketing and sales can save valuable time. Using common dashboards makes it easier to report to the management and saves some meetings because all data is available in a bundled form.
This helps not only marketing and sales but also the entire company as it can work more efficiently.
Now it's up to you:
We hope that you can improve the alignment of your marketing and sales with our tips so that they work more efficiently.