One or the other wonders why an interface is necessary for marketing measures. The answer is so simple and easy to answer. When was the last time you looked at the data quality of your contacts in your CRM?
Assuming that many mid-sized companies have already purchased a CRM and are actively working with marketing automation software, it is becoming increasingly important that contacts from many different sources are bundled, checked and enriched in order to maintain high quality within the CRM.
But not only in case of marketing automation software, also with the collection of prospective customers on fairs, exhibitions and Networking Events it comes frequently to erroneous data, which affects directly the quality in the CRM.
The solution: Fanomena Leads, the intelligent interface for your marketing and sales
A good solution convinces with an intuitive interface!
What do successful software solutions have in common?
They are easy to operate and function reliably on any device. For this reason, special attention has been paid to the surface of Fanomena Leads so that it can be operated quickly and easily on any terminal device.
With just a few clicks, information can be captured, content sent and contacts transferred to CRM.
What is actually "under the hood" of Fanomena Leads?
When it comes to the digital recording of leads, Fanomena Leads provides the user with several options:
For use at networking events and trade fairs, an interested party can be easily registered via business card scan or by digitally entering the e-mail. This data are automatically loaded into the digital contact form, so that the interested person can be further qualified.
Once the contacts have been recorded, they are collected in specific projects and, depending on the settings, synchronized with your CRM either automatically or with a click.
A bonus: The missing contact and company data is automatically enriched with public data, so that the data quality is sustainably improved and further data no longer needs to be researched.
Another area in which Fanomena Leads is used, is online marketing.
Users benefit daily from the cloud architecture of the solution. Fanomena Leads can be connected to any open interface (API) and thus enables an automated exchange of data between third-party software and the in-house CRM, without having to export or import data.
In addition, Fanomena Leads has its own web forms which are integrated into your registration and web pages in order to store the collected leads in the system, to qualify them and then synchronize with the CRM.
The digital Businesskit - What is behind Fanomena Leads's intelligent follow-up?
The digital Businesskit from Fanomena Leads
The intelligent follow-up has its origin in the B2C industry, where it is already used at major running events such as the Berlin Marathon or the Karlsruhe Trade Fair Centre. With the help of interactive content, we create a new participant experience and improve communication between sponsors and participants. For example, participants receive exclusive discounts and interactive content from sponsors directly on their end devices, which they can redeem either online or directly on site.
How can B2B companies benefit from this technology?
In the B2B sector, too, business is exclusively between people. That is why it is important not to send impersonal mass mails to potential customers and existing customers after the trade fair. With mailings of this kind, real added value is rarely created and customers often wait far too long until they receive their desired information.
As a result, customers rarely remember their company when sales contacts them.
A better solution is the digital Businesskit, which is a large part of Fanomena Leads.
By filling your follow-up with interactive content in advance with the digital Businesskit, your prospects receive a personalized follow-up with only relevant content.
Often asked: How do you make sure that the customer only receives relevant content?
There are two possibilities here:
1. Create a digital Businesskit for each of your trade fair themes: Employees can choose between topic-specific Businesskits and send them out
2. Categorize your content using the tagging function: Employees can give prospects various tags to unlock certain content in the digital Businesskit.
Your prospective customers receive precise contents still at the same time at the exhibition booth.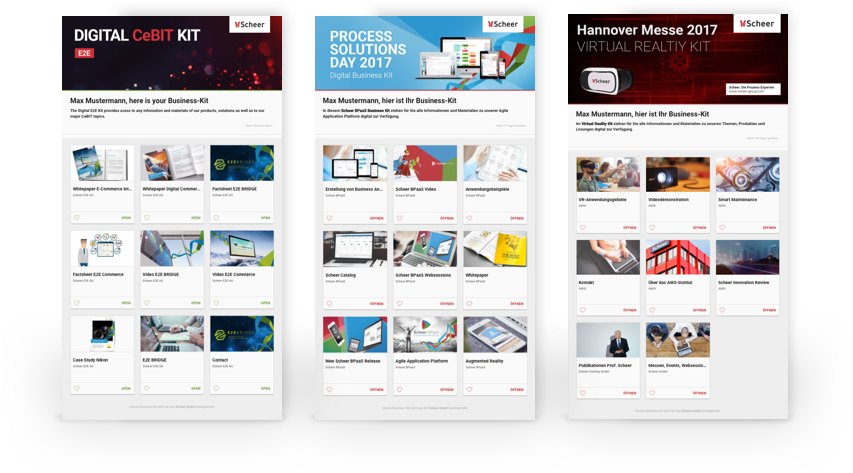 Digital Businesskits from Scheer during Cebit 2017
What type of content can you use?
Your advantage: particularly high conversion and interaction rates
Detailed Trackings - The difference to conventional Follow-Up E-Mails
A big advantage over conventional mailings is that you can make more precise statements about whether a lead has really interacted with the content and whether there is an associated interest in your offers.
The Fanomena Leads dashboard not only shows you how many people have really opened your e-mail, you also get detailed information about it…
You see, the digital Businesskit goes one step further and completely redefines the follow-up. If you want to use the digital Businesskit for yourself and your company, just click on the picture below and request your individual information.
Intelligent Lead Scoring - The automated qualification of your prospective customers
Some people will already know this function from their CRM. But the lead scoring with Fanomena Leads goes one step further.
Our goal: To simplify marketing's decisions as to whether a lead is ready for initial contact with sales or whether it needs further content on its customer journey.
How does Fanomena Leads lead-scoring work?
It is explained simply in the following steps:
1. In advance, a threshold value to be reached is determined, which is decisive for the respective lead phases.
2. You will then score points depending on the importance of your content and projects for sales success.
3. As soon as a customer has a special interest in your content and visits the content or your website, its lead value increases and follow-up measures are automatically triggered (e.g. sending a Businesskit).
4. When the customer reaches the threshold value, the sales department receives an automatic signal that the customer is ready for the first contact.
For example, a lead receives only 20 points when you click on a blog post. However, by visiting your price and product page 50 points each, which would immediately qualify him for distribution if the threshold value is 100.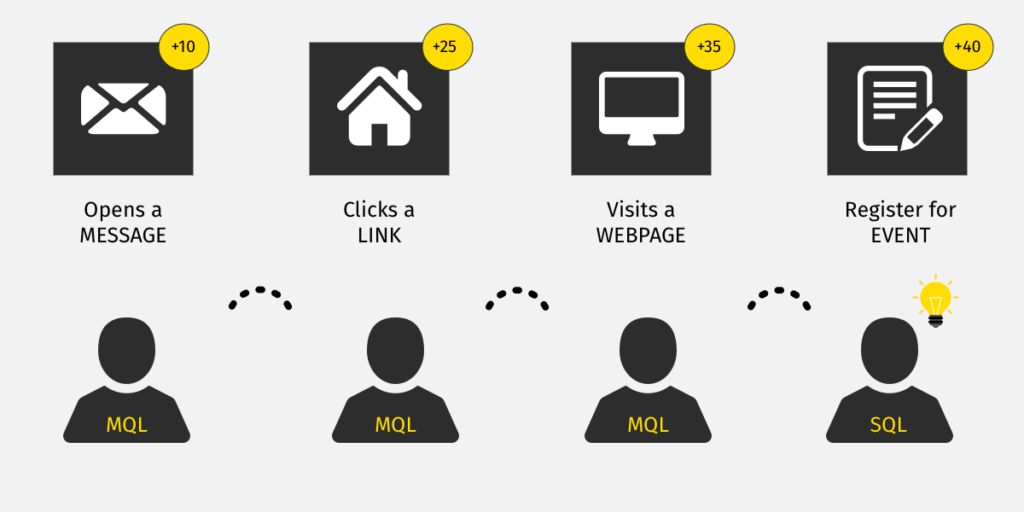 Smart Connection connection to your CRM and existing systems
As already described above, Fanomena Leads can be connected to all common systems that have an open API interface.
For example, you can connect all your marketing tools with Fanomena Leads so that your systems communicate with each other and thus no more duplicates are created and the contact is recorded correctly.
For example, you can combine Mailchimp and GoToWebinar with Fanomena Leads to bundle the leads generated from webinars and e-mail campaigns into your CRM.
Frequently asked question: Can I use Fanomena Leads without CRM?
Also companies that have not yet decided to create a CRM can benefit from Fanomena Leads. You can store your customer data in Fanomena Leads and also maintain and retrieve information here.
The best thing comes to the end: what about data protection?
With regard to the changes in data protection coming on 25 May, we can say with confidence that we have been working properly for a long time.
I hope I could show you that it gets more and more important to think about an interface like Fanomena Leads, because the offer of marketing tools is growing day by day and there won't be less marketing channels for customer acquisition, in the future.